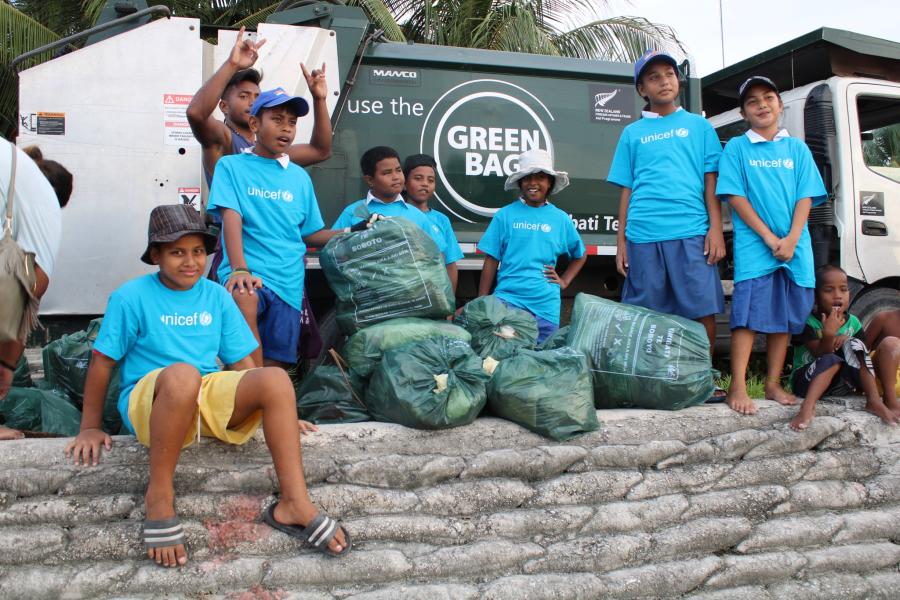 On Saturday 10th of June 2023, World Oceans Day and World Environment Day were celebrated and held at Eita Beach (Aontoa). The event was hosted by the
Ministry of Environment, Lands and Agriculture Development
and funded by
UNICEF Pacific
and the New Zealand funded Solid Waste Management Programme of ECD. Class 6 from Bikenibeu West Primary School with their teachers and the Kiribati Awareness Funny Association (KAFA) were engaged along with several community members from Eita who were able to join in the celebration.
The theme for this year's World Environment Day is "Solutions to Plastic Pollution", while the theme for this year's World Oceans Day is "Planet Ocean: Tides are Changing".
As part of the event, a clean-up competition between the students of Bikenibeu West was conducted. Free giveaways and prizes for the competition were provided by UNICEF including school bags, Maths sets and water bottles, to name a few. A total of 150 green bags of wastes were collected – 124 by students and 26 by other attendees of the event.
A very big KARABWARABWA from MELAD-ECD to UNICEF and NZ's SWMP for funding the celebration, and all those who participated in celebrating these important environmental events.