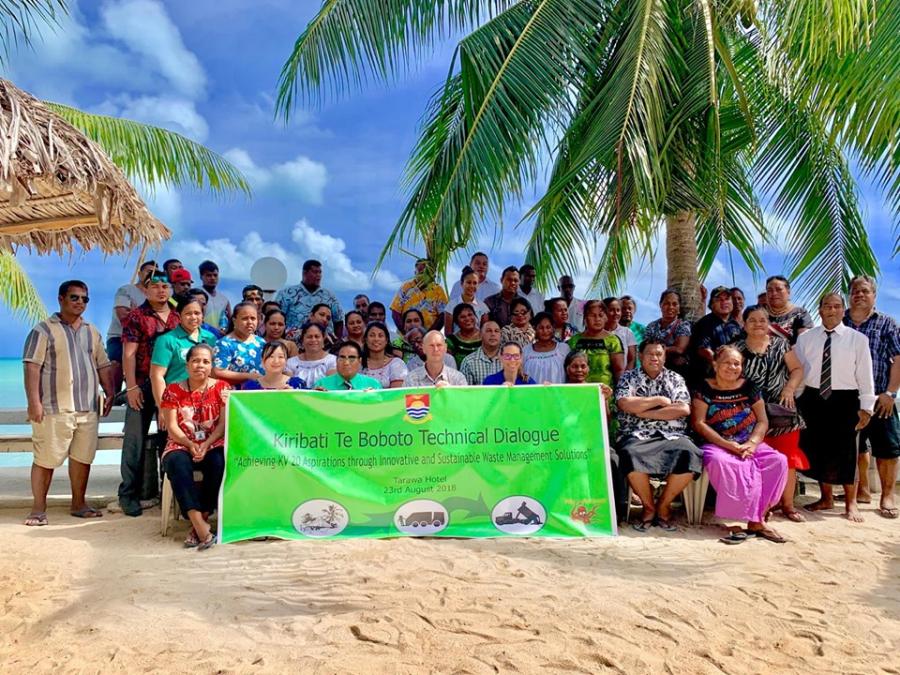 23rd August 2019 - Kiribati convened the first of its kind national dialogue to combat ongoing waste problems. The dialogue called the "Kiribati Boboto Technical Dialogue" held at Otintaai Hotel, South Tarawa, was organized by the Ministry of Environment, Lands and Agricultural Development. It aims to identify solutions towards poor waste management, build partnership and garner support from stakeholders as well as the general public towards effective waste management. More than 60 participants from different Government agencies including Island Councils, Church groups, NGOs, Communities, State Owned Enterprises (SOEs) and Prviate Sectors were engaged in the dialogue. The Minister of Environment, Lands and Agricultural Development, Honorable Alexander Teabo delivered opening remarks followed by remarks from the New Zealand High Commissioner.
Kiribati generates more than 6,000 tonnes a year of which approximately 80% is organic. Poor solid waste management is threatening the tourism industry and the marine environment which are the two main sectors guiding the Kiribati Vision 20 (KV 20), a blueprint for Kiribati economic development. A theme of the dialogue "Achieving KV 20 Aspirations through Innovative and Sustainable Waste Management Solutions" provides the opportunity of participants to share issues around plastic wastes as well as wastes in general and discuss their strategic ideas on practical solutions to tackle such issues.
The improvement in solid waste management in Kiribati will no doubt fulfill the aspirations of KV 20 and its 4 years Kiribati Development Plan as well as enabling the country to meet its SDG 11 & 12 and commitments under wastes related Conventions Kiribati is party to.